Black Youth Vote!
Black Youth Vote! | About BYV! | Our Voices! Our Mission! | BYV! Advisory Board and Staff | BYV! Blog | iThink2012 Campaign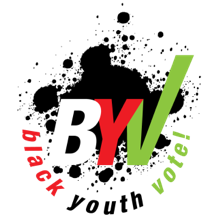 Black Youth Vote! (BYV!) is a national grassroots coalition of organizations and individuals committed to increasing political and civic engagement among black youth and young adults between the ages of 18-35. On April 4, 1996, BYV! was launched under the theme "The Ballot, Not the Bullet" live on CSPAN to address the chronic decline in Black youth voter participation.

BYV! identifies campus and community based youth-focused organizations and engages their youth leaders on the effects of the political and civic process. We develop tactics to increase youth engagement including: civic education, issue education, voter registration, message development, voter mobilization, voter protection, accountability and understanding public policy.
For more information about Black Youth Vote please contact us via email blackyouthvote@ncbcp.org.
Black Youth Vote! | About BYV! | Our Voices! Our Mission! | BYV! Advisory Board and Staff | BYV! Blog | iThink2012 Campaign