Join Us
"Stand Your Ground: Vote!"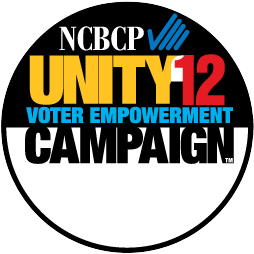 The UNITY'12 Campaign is a call to civic action in Black communities across the country!
The National Coalition is the national convener of the Unity '12 Campaign, which is a unified, non-partisan, national civic engagement and voter empowerment campaign.

Unity '12 Campaign is a strategic collaboration between The National Coalition's Membership Organizations, State-Based Affiliates; and its National and State-Based Partners.
Unity '12 Campaign National Co-Conveners and Partners include: A. Philip Randolph Institute Education Fund, AFL-CIO, African Federation, Afro-Latino Forum, Black Youth Project, Common Cause, Cost of Freedom Project, Fair Elections Legal Network, Generational Alliance, Institute of Caribbean Studies, Lawyers' Committee for Civil Rights Under Law, National Action Network, National Council of Negro Women, National Urban League, Phi Beta Sigma Fraternity, State Voices and others.
Unity '12 Campaign is engaging Black women, young Black men and immigrants of the Diaspora to raise their voices at the ballot box through three (3) voter contact initiatives including: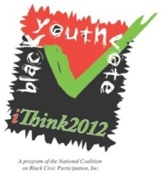 Black Youth Vote - iThink 2012 Campaign Vote4Justice Initiative
Black Women's Roundtable Power of the Sistervote Initiative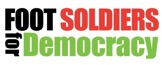 Foot Soldiers for Democracy Election Administration and Voter Protection Iniitiative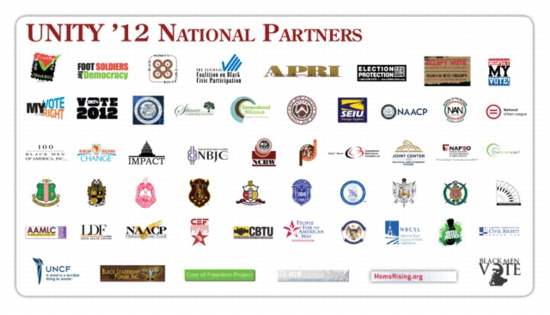 CLICK HERE TO GO TO THE UNITY '12 ELECTION CENTER
Increasing Black voter turnout by 3-5 percent in selected sites in twelve (12) states by making at least 1 million voter contacts through voter registration, education, protection and GOTV.
Educate and inform at least 300,000 Black voters on how to protect their voting rights, including draconian photo ID requirements enacted in several states that will disenfranchise people of color, students, low-income and seniors; 3)
Train at least 1,500 volunteers on civic engagement strategies to assist in building a strong voter engagement and public policy education campaign
Publish and distribute Black Youth Vote! iThink 2012 Report, "The State of Black Youth Civic Engagement."



The Unity '12 Campaign Projected Outcomes include:
The National Coalition has amassed a dynamic Unity '12 Campaign Team. For details click here